If you're not sure where to start, visit the Connection Center
As you walk in the foyer, directly ahead is our Connection Center. One of our Hospitality Volunteers will be manning that station, and they can be identified by their lanyards. They can answer any question about the church, services, and programs available. They can also connect you with other leaders for more specific or detailed questions. If you are a first-time guest, we'll have a gift for you!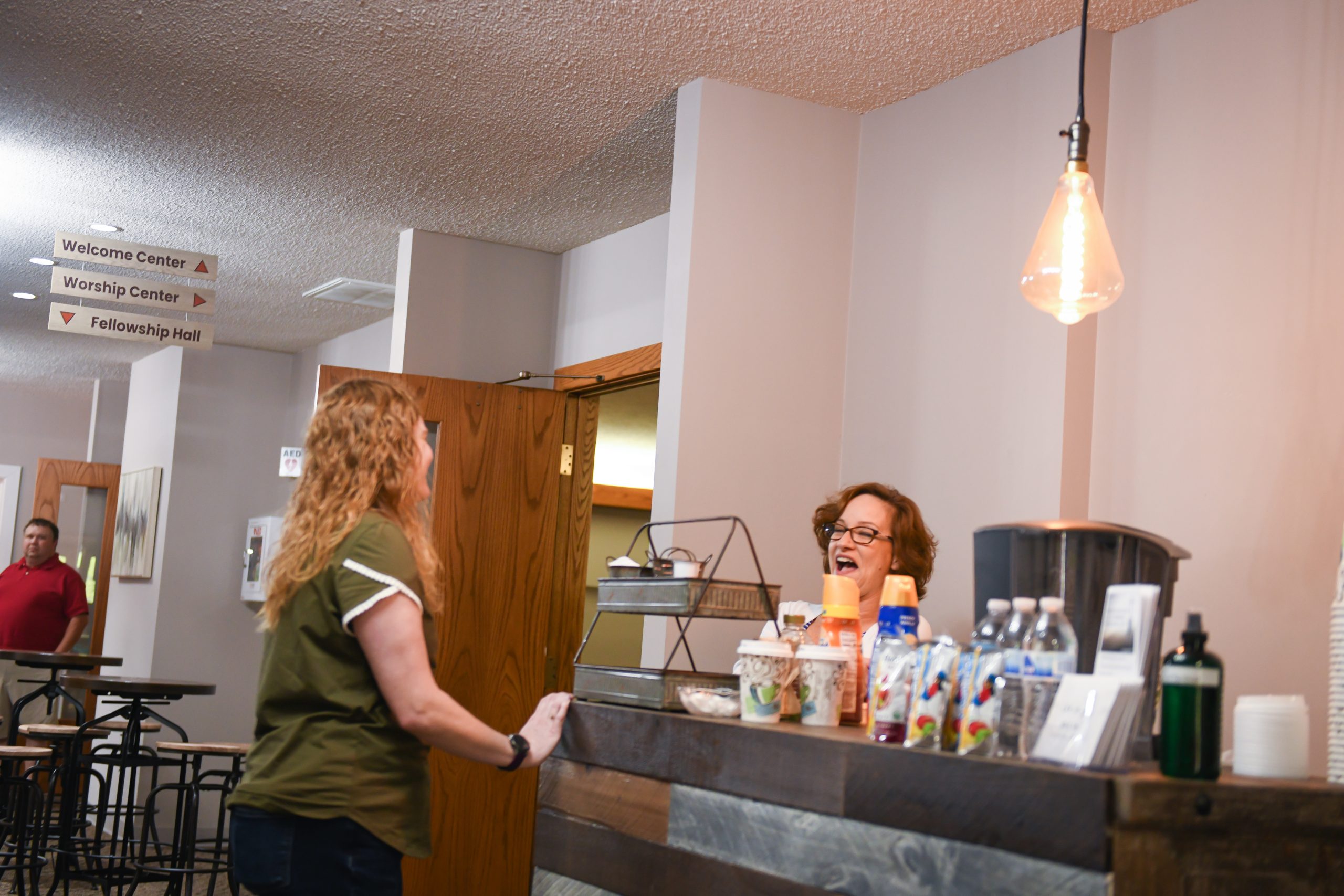 Make everyone feel welcome
Valet parking
To make parking a breeze. One less thing to worry about!
Warm smiles
To greet you at the door and point you in the right direction.
Friendly baristas
To serve up delicious coffee as well as hot chocolate and juices for the kids (or kids at heart).
Common questions answered
Are kids or teenagers part of the service?
One of the things we are most proud of is the involvement of youth in our services. You will see them operating cameras, mixing sound, volunteering with kids, or playing and singing in the band.
Is there a place to get coffee or other drinks?
We have a complimentary coffee bar that also serves teas, hot chocolate, and juices, along with tables so you can connect with others over a beverage. You are also more than welcome to take your coffee into the Worship Center.
How do I get to the Worship Center?
The Worship Center is on the right and there are two entries: One beside the coffee bar and one at the far end of the foyer by the mobility elevator. Directly beside the door as you enter the Worship Center are baskets that contain weekly bulletins, which detail the order of service and things going on in the church, as well as a communion packet.
Is everything wheelchair accessible?
We have a mobility elevator for our guests who need to move between floors. Upstairs restrooms are wheelchair accessible, and there is a wheelchair ramp downstairs to reach classrooms. Those with mobility limits can take advantage of our valet parking service to remove that concern from their list. We will also help those with wheelchairs find a seat.
How long do the services usually last?
Our services start at 10:00 AM and typically run around 1hr 15min.
What about communion?
We take communion each week and any believer can participate. RCC membership is not required.
Are there Sunday school classes or groups I can be a part of?
Sunday School starts at 9:00 AM on Sunday mornings. We offer an adult class as well as a staffed nursery and classes for Pre-K to high school.
Is there somewhere I can go to nurse my child?
A nursing mothers room is available across the hall from the nursery.
Do I need to bring anything for my child? Can I leave my diaper bag with you? Will you change my child's diaper?
For kids in the nursery, feel free to bring anything specific to your child, but if you forgot anything we've got you covered! If your child has any specific needs or requirements please let us know.
Do all volunteers get background checks?
Yes, volunteers get annual background checks! It is also our policy that volunteers don't serve alone.